(Reposted from Martha Up Close and Personal)
I love all animals, and I share my Bedford, New York farm with many – dogs, cats, horses, donkeys, a pony, chickens, geese, Guinea fowl, peafowl, and a myriad of wild creatures. My friend, Ari Katz, is also very passionate about animals. On this blog, I've shared stories about his chickens, his canaries, and his beautiful dogs. Ari enjoys showing, raising, and breeding champion Labrador Retrievers. His dogs are in exceptional health and have excellent physical abilities and temperaments – qualities that are essential in service work. Many of his puppies are now going on to be trained as assistance dogs to help visually impaired individuals. Here is a guest blog from Ari, enjoy.
As Martha knows, I recently stopped selling puppies to pet homes and transitioned to selling them to a service organization called Pilot Dogs. I made this switch because as a breeder, I have to be able to justify my actions. I felt guilty creating more companion animals just to keep several as potential show dogs and breeding stock. My mentor, Karen Helmers, introduced me to Pilot Dogs over the summer and we began a business relationship.
Pilot Dogs is a non-profit guide dog school for the blind and visually impaired, located in Columbus, Ohio. Since opening its doors in 1950, its mission has been to provide exemplary services to the blind community, helping them navigate their lives with unmatched levels of independence, mobility, and confidence. Because they rely solely on the generosity of private donors, they can provide not only world-class guide dogs, but also unsurpassed training, on-campus room, and board, round-trip transportation, an Orientation & Mobility program, and more – all at no cost to their students. Pilot Dogs has about 90 dogs in training right now, including puppies and dogs that are with Co-Pilots and dogs that are in the facility. Raising and training a puppy from the time they get them from me to "graduation," when they are matched with a person in need of a guide dog, costs more than 30-thousand dollars and two years time – it is a LOT of work!
I recently had two litters that I decided would be good for Pilot Dogs. My girls, Mehndi and Kima, had a combined total of 18-puppies! All of them are doing very well, growing nicely, and hitting their developmental milestones. While it was challenging to have two sizable litters at the same time at my family's farm while I am away at school, it is rewarding to know that my puppies will wind up in the hands of a great organization and maybe even be guide dogs someday. In this blog, in collaboration with Pilot Dogs, I talk about my pups along with the importance of breeding wisely, screening for health tests diligently, and the importance of ethics in breeding dogs as potential guide dogs.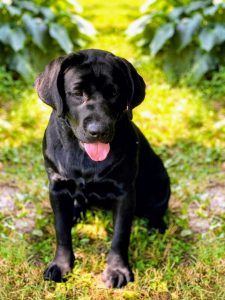 Here is a photo of my black Lab, Kima. I decided to breed her to a dog I bred last April named Martin.
This is Martin, Paradocs AK's Martin. He will be two in February and lives in Indiana with his co-owner and my mentor, Karen Helmers.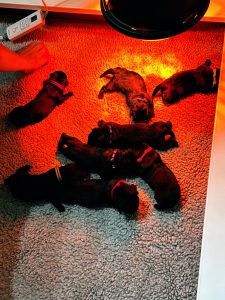 These are their puppies – they had eight. Five boys and three girls. Here they are right after getting home from my vet's clinic. Because the litter was large, my vet and I decided it would be safest for Kima and the puppies if she had a c-section. All eight puppies and their mom were home within two hours. Part of being an ethical breeder means putting one's animal's needs before your own preferences. I wish Kima had delivered her puppies naturally, but safety always comes first.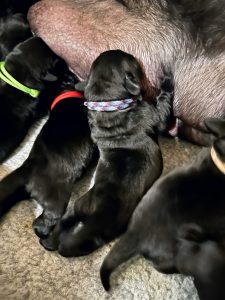 This is a close-up of some of Kima's puppies nursing. I put different colored collars on each puppy so I can weigh them daily and track their growth along with identifying them. Here is "Blue-Pink-Black Girl" kneading for milk. Puppies are quite robust and will find a way to get what they need.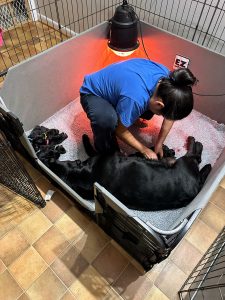 Eight days later, Mehndi gave birth to 10 puppies – a large litter for a Labrador Retriever. Here, Carmen is helping each puppy latch on to nurse while Mehndi looks at her puppies in the corner. Mehndi is an incredibly good and diligent mother. She cares for her puppies up until the minute they are weaned. She did an excellent job with this litter. We were all very proud of her.
This is Swig, American Kennel Club Champion Greenstone's Down The Hatch. Swig lives in Indiana with Karen, but was bred in Texas by Stacey and Starkey Green. He is a beautiful dog and a good representation of the breed. Most importantly, however, is that Swig is clear of all genetic diseases, heart issues, and structural issues like hip or elbow dysplasia – he makes for a good and safe stud dog.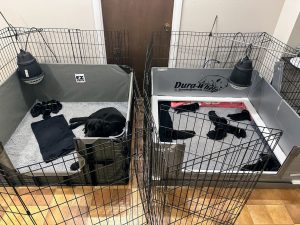 Here are both litters of puppies. Carmen keeps a close eye on them. On the left is Mehndi with her litter in the EZ Whelp whelping box. Kima's litter is on the right. You can see the size differences a week makes. It's quite something!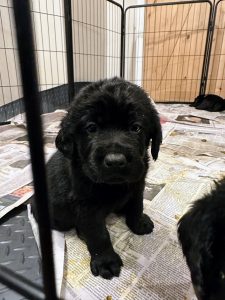 This is one of Kima's male puppies at five weeks. As these puppies continue to grow, I look forward to keeping my picks, but also sending Pilot Dogs their new puppies. It makes me happy to potentially be helping someone who needs a guide dog.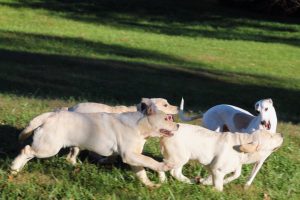 Some of you may remember the litter of yellow puppies I had over the summer. These are the three I kept. The others went to Pilot Dogs and were named Gala, Gordy, and Gouda. The reason it is so important for an organization to work with breeders who care about their stock and the animals they produce is that someone may be completely dependent on the animal for several years. If the animal develops health issues or is unhealthy from the beginning, they are unable to perform their job – whatever that may be (guide dogs, bomb-sniffing dogs, or emotional support dogs – to name a few). Thus, the need for a healthy dog, which comes from healthy breeding stock, cannot be overstated.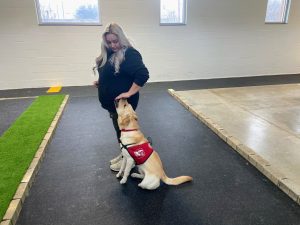 Trainer Megan Marie and Pilot Puppy Calvin are working on the "heel" command in the flight simulator, Pilot Dogs indoor training facility. The flight simulator is set up with a "city" feel, complete with curbs, fire hydrants, tree branches, and lots of other distractions to aid in training. (Photo courtesy of Pilot Dogs)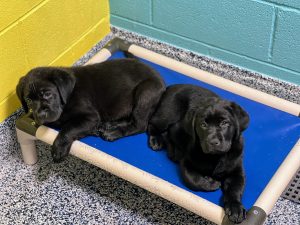 Two young pups, Eeyore and Emmy, are snuggled together in their kennel in the Puppy Palace, the facility where the youngest puppies stay until they are about eight to 12 weeks old. After that, they go to homes of our volunteer Co-Pilots until they are old enough to start their formal guide dog training. (Photo courtesy of Pilot Dogs)
Here is a cute picture of Gala from her Co-Pilot. I bred Gala, Gordy, and Gouda – all siblings to the picture of my yellow puppies running with my Whippet. (Photo courtesy of Pilot Dogs)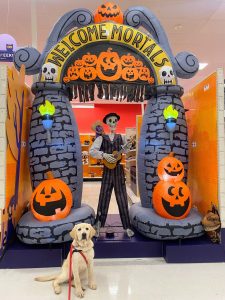 Pilot Puppy Gala sits calmly next to an enormous inflatable Halloween decoration inside a party supply store. Gala is doing very well with her training! Halloween is a great time for puppy socialization because of the large, out-of-the ordinary (and sometimes loud) items that are on display, and it allows them to be around people in unusual costumes and masks. Winter excursions are a good time for socialization as well, to acclimate the puppies to being in crowds with people wearing big coats and hats, and often having most of their faces covered. (Photo courtesy of Pilot Dogs)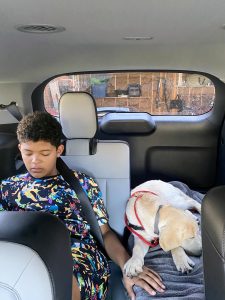 Pilot Puppy Gordy is resting with a member of his Co-Pilot family after a long day of adventures. He, too, is doing very well as a potential service dog. When someone signs up for the volunteer Co-Pilot program, they need to ensure that every member of their household is on board with the guidelines and requirements involved in raising a Pilot Puppy – kids and adults alike. (Photo courtesy of Pilot Dogs)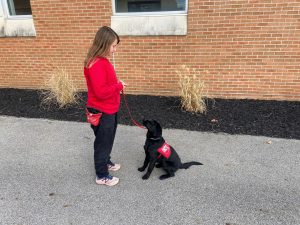 Trainer Ashley works with Pilot Puppy Hazel on the "sit" command. Hazel is very focused and did a great job during her training session. (Photo courtesy of Pilot Dogs)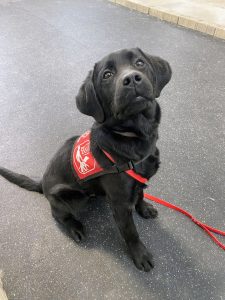 Here's Pilot Puppy Hazel looking adorable in her vest. Pilot Puppies wear these vests when they are out in public to help bring awareness to Pilot Dogs and to let people know they are in training. (Photo courtesy of Pilot Dogs)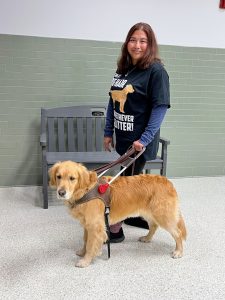 Jesi is a recent graduate of Pilot Dogs, where she was matched with Pilot Dog Rose. Rose is her first guide dog, and her first Golden Retriever – she is a five-time Doberman Pinscher owner. Jesi was adopted from Guatemala at 10 months old and lost her vision at birth as a result of three prenatal strokes. She has a master's degree in Exercise Science and Physical Education, and her goal is to work with special-needs students and their physical fitness. (Photo courtesy of Pilot Dogs)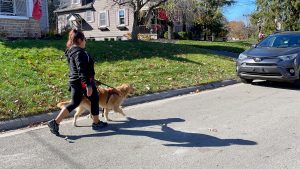 Student Jesi and her Pilot Dog Rose train in a local suburban neighborhood in an area without sidewalks. Navigating areas without sidewalks can be a challenge for a guide dog team, because there are no curb ramps to indicate upcoming intersections, or audible pedestrian traffic signals to let them know that it's safe to cross the street. This type of training is also useful for students who live in rural areas without sidewalks. (Photo courtesy of Pilot Dogs)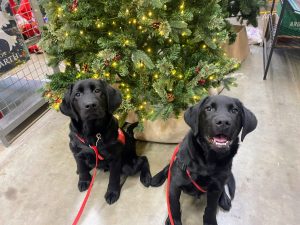 Pilot Puppies Junior and Jerry are posing in front of a Christmas tree during a trip with trainers to a large, crowded store. (Photo courtesy of Pilot Dogs)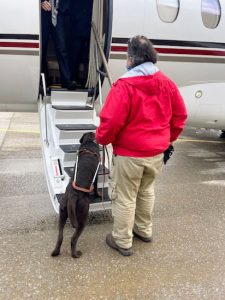 In order to effectively and safely guide his handler, who is an avid traveler, Pilot Dog Travis works on getting on and off an airplane, and walking through the airport with all its many sights and sounds. Here he is going on a first-class training adventure on his very own private plane, accompanied by his trainer, Mike. If you want to know more about Pilot Dogs and the work that they do, please visit the website at PilotDogs.org. (Photo courtesy of Pilot Dogs)